Of roses and scallops
The crochet scarf is finally finished. Looks like I can only get to wear it next winter though, as spring has arrived in full force and the temperature broke above 20 degrees Celsius this afernoon. The colour is actually duskier than it appears here.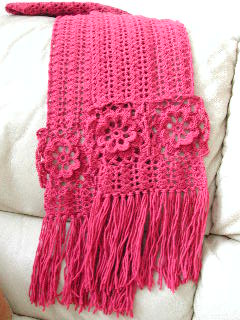 The sun is also shining on our family today as Chung Yi has gotten much better from her bronchiolitis and is willing to drink her milk again. That really gave me a break from my worries and some mood to fiddle around with the digital camera.
What else did I crochet recently?
This
. It's a coin purse from a Japanese pattern, work in close scallop stitch. The yarn and snap used are Hamanaka from Japan as called for by the pattern. It's a sturdy yarn well-suited for the purpose. I've made a longer one to hold my lipsticks and stuff more than 3 years ago and am still using it.
Posted by yscmama at 9:53 PM WST
Updated: Tuesday, 17 February 2004 11:44 PM WST