Where is my Spring Interweave Knits?
While I was taking off my shoes after coming home from work last evening, I caught a glimpse of a big `AIRMAIL' glaring out of the mail basket. Ignoring the prattling of my children, both clamoring for my attention (Gee, as if I'm so popular with them), I opened the letter only to find a slip from IK reproducing an advertisement that was bisected in the magazine and a free capelet crochet pattern. No magazine yet. This would be the third IK issue I'm receiving as a subscriber and knew it would probably arrive in Hong Kong mid-March, I was just keeping my hopes up. Lots of nice things have been said about the Spring IK and I do want to examine this
design
on the cover by Debbie Bliss. Do you think it would be the right one for the Jaeger Chamonix (Colour 901 Lille) I bought last June? I've been on a quest for the ultimate comfort sweater pattern for this yarn that I've revered so much. The balls have remained intact in the original packaging as I haven't dared to `disturb' them, until now, that is, for this photoshot. The colour in this photo is not true due to the lighting in our flat. It's more light brown than orange. Next time I shall take photos in the daylight. Should I stick to
Chamomile
instead?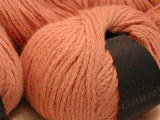 Posted by yscmama at 9:44 PM WST
Updated: Thursday, 26 February 2004 10:18 PM WST