All about Afghans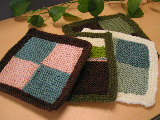 This post is all about afghans. First of all, four patchwork squares completed for the MDK Afghanalong. They will be sent out to New York on Monday where they will be assembled with counterparts from other nations, how exciting! I've started a fifth one last night on the bus. It's my first attempt at log cabin using Kay's notes, and it's really lots of fun.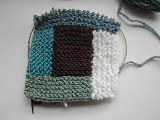 Secondly, I've joined the
Sampler Afghan-A-Long
organized by Cindy at the
Knitting Park
!
Inspired by this
beautiful afghan
at Page by Page, I embarked on knitting one of my own last spring. It's the first time I take on such a big project, and I'm enjoying every step of it. This afghan is my security blanket in its truest sense right from the start of its construction. Last spring was a harrowing one for people of Hong Kong and my hometown, Singapore. Cities in this part of Asia were then plagued by the dreadful SARS. I was expecting my no. 2 and was really worried sick. Knitting the squares and experimenting a host of different stitch patterns provided me the refuge and diverted my attention.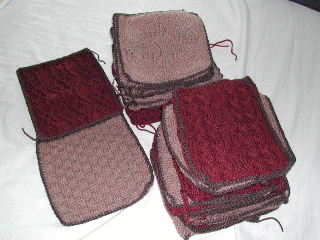 These piles are some of the completed squares. I was about 2/3 of the way when I ran out of yarn. The Jo Sharp DK was bought from Down Under and the appreciating Australian dollars kept putting me off from buying the remaining yarn. I also wanted to spend more time with my newborn, so the project was stalled. The vendor,
Ozeyarn
informed that prices will be increased from 1 March and I promptly placed my order for the remaining yarn last week. I hope that by joining this knitalong, the project can be revitalized. Details of the afghan are as follow (I'll try to create an Afghan page if I manage to figure out how to do it) :
The Design
No particular design, just using different stitch patterns from Barbara Walker's knitting treasuries. To be made up of 42 8-inch squares (6x7 layout). The squares are in 2 colours, 21 light and dark ones respectively, and the crochet border in a third colour.
Yarn
Jo Sharp 8-ply DK in Lilac (324)-Light, Mulberry (325)-Dark, Smoke (339)-Border
Progress
Light sqaures - 19; dark squares - about 15
Posted by yscmama at 10:21 PM WST
Updated: Monday, 1 March 2004 10:31 AM WST