Fever
Welcome to the house of fever. The children are taking turns having a fever. I'm feeling under the weather too and have promptly gone to see a Chinese physician during lunch. I prefer
tradition Chinese medicine
. TCM is supposed to help your body achieve its natural equilibrium. I badly need some rest, sans kids type of rest, that is.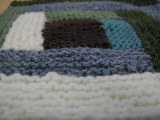 The log cabin square turns out to be a rectangle, so the last side has two rows less to make it square. This garter stitch knitting thing is really addictive, so much so that I'm ignoring my other projects. I used to dislike garter stitch as it is really boring to me, just knit, knit, knit, and no purl. I wanted to start a new square for my sampler afghan but another garter stitch square for MDK Afghanalong is calling to me. It is the Parquet Square from Barbara Walker's 4th treasury. Its construction is along the same principle as log cabining, knit, rotate, pick up stitches, knit, etc but in squares instead of stripes.
Saw this
great site
at
Da*Xiang
. So grassroot, so authentic, so Singapore. The first photo `Havelock Road' is just across from where I lived. I could have been in that photo, you know. It really made me homesick.
Posted by yscmama at 5:56 PM WST
Updated: Tuesday, 2 March 2004 9:07 PM WST